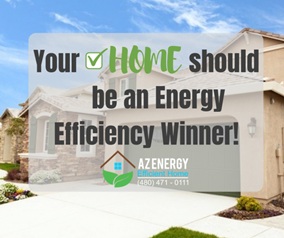 This election season, we have been bombarded with messages on energy efficiency and clean air initiatives. Regardless of your stance on the issues, all homeowners and businesses want to keep their utility costs at a manageable amount each month and would like to cut down on pollutants surrounding our communities. This is the time to prepare your property to efficiently manage any outcome from the election.
AZ Energy Efficient Home works directly with homeowners and businesses to ensure their property's energy performance is efficient. We offer Energy Assessments that identify issues that may be costing you money every month through high utility bills. This may include: leaky duct work, poor ventilation design, under-performing insulation, or air leakage in and out of your conditioned spaces. Some of these issues may seem minimal but could be crucial when assessing poor indoor air quality. Our Healthy Home Assessment expands a home performance to a health related performance rating. We help classify concerns that could be affecting asthma, allergy, or other immune disorder sufferers. Each of our projection reports gives a list of repairs that will save you money on your utility bills and provide a healthy environment to live and work in.
Don't forget to take advantage of the incentives from APS and SRP that are available for Arizona homeowners. As a Preferred Home Performance Contractor for APS and SRP, the AZ Energy Efficient Home team will help with the rebate process and will perform the necessary efficiency repairs.
We don't know what the outcome of the election initiative will be, but either way, you can know that you have done your part to make sure your home is energy efficient and healthy by utilizing our services. Schedule an appointment to have your property assessed by AZ Energy Efficient Home and be the winner this election season.