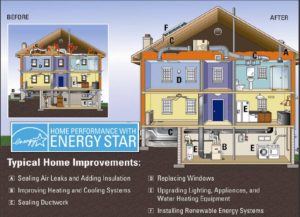 Many homeowners believe that their insulation is protecting them from the outside air and harsh weather. A key factor in creating a more comfortable and energy efficient living space is to reduce air leakage into and out of your conditioned space. This often goes unseen and you get left spending more and more on your electricity bill, while never feeling comfortable in your own home.
Air leakage is a fairly typical but crucial problem to fix within your home and can typically only be detected by using special temperature and pressure testing equipment throughout your attics, basements, floors, doors and windows. Since our homes tend to get our air changes from the attic space, we are breathing contaminated attic air which can pose a mild to severe reaction in our bodies. These symptoms are unfortunately rarely attributed to poor indoor air quality.
Realizing the inefficiencies in your home through pressure testing and infrared imaging can accurately determine where the leaks are coming from and offer precise costs for extinguishing these inefficiencies. AZ Energy Efficient Home will help you calculate your return on investment and provide comfortable living spaces. We also install energy efficient heat pump systems.
APS and SRP provide great incentives for properly sealing your home and AZ Energy Efficient Home can help to process rebates and perform the necessary efficiency repairs.
Additional Air Sealing Benefits:
Increases Energy Efficiency
Great ROI
Provides Comfortable Living Space
Moisture Control
Increases Air Quality
Reduces Dust, Contaminates & Allergens
Decreases demand on cooling system