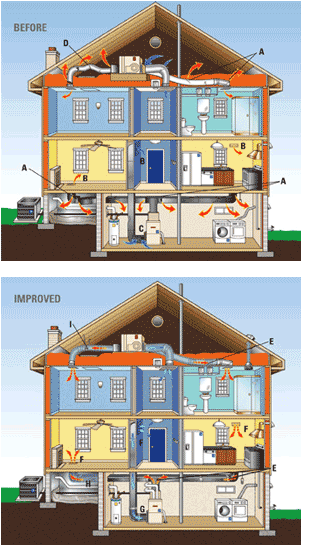 Duct Sealing is often overlooked when a homeowner tries to comprehend why their home is constantly uncomfortable. Most homeowners assume that their insulation and duct work were properly installed and maintained over the years.
Duct leaks are a huge culprit of wasting energy. Not only can your ducts leak air, they can bring in dust and allergens from your unconditioned space into your distribution system and ultimately into the air you breathe inside your home. These contaminates can enter in the duct system through seems, joints and cracks.
AZ Energy Efficient Home evaluates your current duct system and tests to see if unconditioned air enters the duct system and flows into your home. This intrusion of hot unfiltered air from your attic pollutes your living areas and keeps your air conditioner constantly running throughout the entire summer. For example a 15% return side leak in a 110 degree attic cuts your cooling efficiency by 50%
Properly sealing the ducts in your home will not only improve the air quality in your home, but will also increase the efficiency of your cooling system and overall comfort which will reflect positively on your electricity bill. In addition, by effectively sealing your duct system you can extend the life of your AC system and components saving you money on repair and replacement costs that would otherwise be incurred.
APS and SRP provide great incentives for properly sealing your duct work and AZ Energy Efficient Home can help to process rebates and perform the necessary efficiency repairs.
Additional Duct Sealing Benefits:
Lower utility bills
Increased ventilation durability
Great ROI
Provides Comfortable Living Space
Reduced Dust & Allergens
Increases Air Quality
Maintain Consistent Temperature in Home
Decreases demand on cooling system
Increases Value Of Home & Resale Value
Extends the life of your cooling system