Here's what to know about installing AC in Phoenix
If your only priority is to keep the AC installation cost as low as possible, you can pick from any number of AC installers in Phoenix. There's a race to the bottom here in the valley.
However, if you also want a properly-sized AC system that will operate efficiently and reliably for years,  then give us a call at (623) 581-5298. You can also send us a message to schedule an appointment.

What it's like - AC installation in Phoenix
"Jonathan and his team are AMAZING! I moved into an older house in May 2015. My AC bills were outrageous to say the least so I contacted APS to have an energy efficiency audit done. Jonathon arrived promptly and thoroughly explained the work he was going to do and the anticipated timeframe…He outlined the work that needed to be done and explained it in detail (with pictures) to me and my husband. Needless to say, we had the work done. His crew was fantastic!
I was reluctant to write a review right away because it was still winter and I knew the true test would be during the summer months. I am pleased to report back that my APS bills are just under HALF of what they were 1 year ago! The money I am saving in APS is paying for the cost of the repairs. I am very thankful that APS has such an honest and all around great guy working for their customers. I recommend Jonathon to everybody!"
-Lori B. in Phoenix, AZ  (Read more reviews on Google)
All your AC installation questions answered
If you're just starting to think about air conditioning:
If you're considering AC installation for your home:
If you're trying to make a final decision about air conditioning:
If you want to get the most from your current AC:
What are the steps to install AC in Phoenix?
Start by giving us a call at (623) 581-5298, or send us a message to schedule an appointment.
Too many Phoenix AC installers give estimates for oversized cooling systems that cause you to overpay on your energy bills.
When we design a central air conditioning system, we not only work with your budget, we also consider your duct design, air leakage, static pressure, room pressure, and all of the small things that add up to make a big difference for your home.
There's a reason that we've earned the ENERGY STAR Contractor of the Year Award for the last seven-years in a row. We care about the details and offer every client a satisfaction guarantee. We'll do what it takes to make sure you're satisfied with your new central air conditioning system.
What do I do if my AC can't keep up with heat?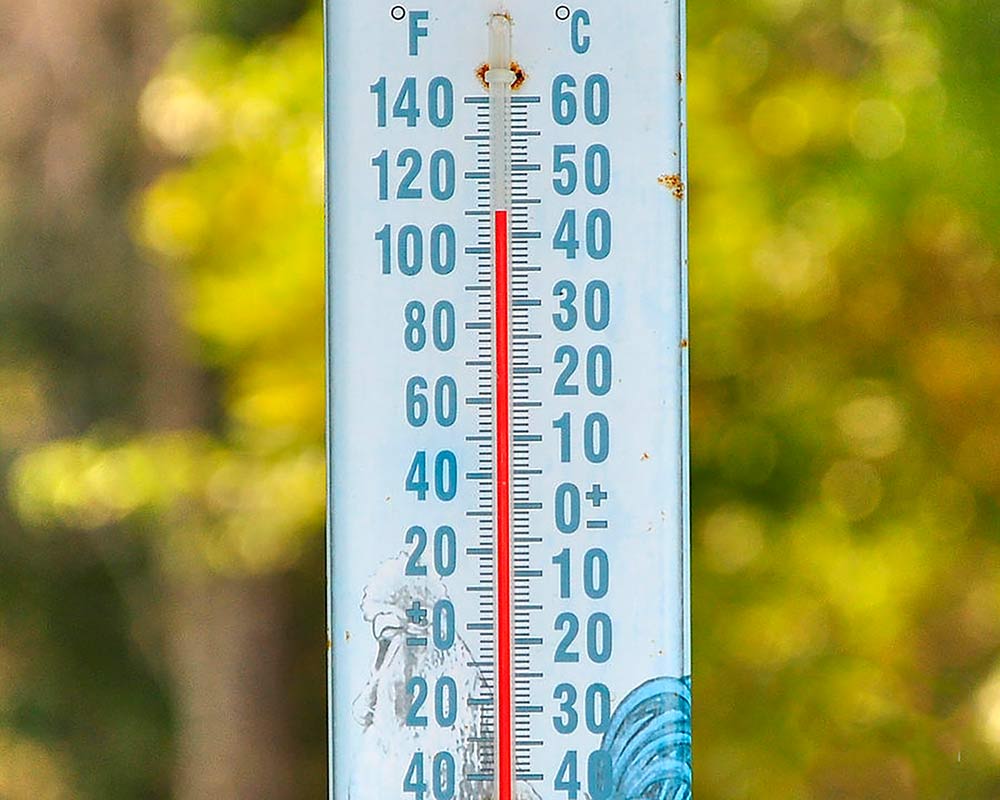 Air conditioning is a blessing, but your AC system may start to struggle when Phoenix sizzles at 110° or more. What do you do if you AC can't keep up? Start by giving us a call at (623) 581-5298.
Air conditioning systems are designed differently depending on where you live. For example, you need an AC with more power to handle the heat in Phoenix compared to Anchorage, Alaska. It is not nearly as hot in Anchorage, so you can get by with a much smaller AC. 
Here in Phoenix, the outdoor design temperature ranges up to 108 degrees. That means your system can keep your home at a comfortable 72 degrees by running continuously when it is 108 degrees outside. But if it gets hotter than 110, you may notice that your home doesn't feel as cool as it normally does.
You may be tempted to just swap out your heat pump or AC with a larger unit. Bigger system, more cooling right? Not so fast!! If you upgrade to a larger system without taking a few other steps first, you may inadvertently cause all kinds of issues, such as short cycling.
If in install an AC system that is too large for your home, it will likely cycle on and off too often. This is called short cycling. It happens when your air conditioner only runs for a few minutes and then stops. This makes your system work harder than it should to cool your home. It also takes longer and uses more energy to reach the desired temperature. Short cycling can cause your AC to fail prematurely and increase your monthly energy bills.
Rather than just swapping out your AC or heat pump with a bigger system, we recommend that you start with a combination of insulation, air sealing, and duct sealing.
If you do not first make sure that your home is relatively air tight and insulated, then you will still feel uncomfortable even if you install a larger cooling system. The air that you pay to condition will simply escape through holes, gaps, penetrations, and poorly insulated areas of your home.
After addressing issues with your insulation, air sealing, and duct sealing, then it's time to talk about swapping out your cooling system. Please send us a message if you'd like help.
What are signs that my AC system is undersized or oversized?
We hear about it all the time. "My AC seems to run constantly," or "The air conditioner keeps cycling on and off. What should I do?" If your AC is either too big or too small for your home, you'll experience all kinds of issues. Here we'll give a quick rundown of the symptoms, causes, and solutions.
Symptom #1: The AC runs constantly or cycles on and off frequently
A small AC system will have a hard time reaching the temperature you want, especially when it's really hot outside. It will keep running non-stop, using more power and wearing down the parts faster.
An oversized central AC will make your home too cold too fast, without taking out enough moisture from the air. It will turn on and off constantly, making the temperature change and wasting power.
Symptom #2: Your energy bills are higher than expected
An undersized or oversized AC system will use more energy than a properly-sized AC system.
To clarify how this works, let's focus on an oversized AC system. When the temperature in your home rises above the temperature that you set at your thermostat, your AC will fire up and rapidly cool your home to well below your set temperature. Then the temperature will rise again, restarting the cycle of rapid cooling.
This cycle is highly inefficient, meaning that it requires more energy and drives up your energy bills.
Symptom #3: Your AC makes loud noises or consistently breaks down
An undersized or oversized AC system puts more stress on the components, such as the compressor, fan, and blower. This can cause them to make loud noises or malfunction more often. You may need to repair or replace your AC system sooner than expected, which can be both costly and inconvenient.
The Cause: Why are so many AC systems in Phoenix too big or too small?
It's unfortunately common to see central air conditioners that are either too big or too small in Phoenix. We have so many AC installers who move fast and make money by selling systems without doing a detailed inspection of the home. It's their short term gain for your long term pain.
The Solution: Get into the details, and do it right
As a contrast to most AC installers, consider how we approach AC installation at AZ Energy Efficient Home. When we come out, we do a detailed inspection of your insulation and duct system before we do a load calculation to find the right size air conditioner for your home.
If you're not sure whether you have the right size AC system for your home in Phoenix, please give us a call at (623) 581-5298)  or send us a message anytime. We're here to help.
Do I need to update my ducts for a central AC?
It depends on the condition of your ducts. Below, we break down four common issues with ducts in Pheonix homes. If any of the follow looks familiar, you'll need to update your ducts.
It's like this – If you have a blocked artery, blood can't move through the body like it should. In the same way, if you have a pinched duct, air can't move through the home like it should.
The good news – Fixing your ducts is a relatively inexpensive upgrade that can cut heating and cooling costs by 15% and even out the temperature differences in your home.
Give us a call to talk about fixing the ducts in your home: (623) 581-5298
Common Issues with Ducts in Phoenix Homes
Pinched Ducts Over Rafters
We see it all the time. An installer cuts a corner and drapes a duct over the framing in an attic. As you can see in the image above, the framing pinches the duct and significantly restricts airflow. 
An excessively long ducts adds resistance, reduces air flow, and makes your HVAC system work harder than it needs to. When we see a duct like this, we disconnect it, remove as much of the excess length as we can, then reconnect the duct with the inner lining pulled tight.
If you have ducts running through an unconditioned space, like your attic, then it's essential to insulate the ducts so that they don't gain too much heat during the summer months. We find the most issues with duct sealing and insulation around the connection points (where two or more ducts come together).
Over the years, we've found so many supply ducts blowing conditioned air into attics with return ducts sucking super-heated attic air back into the system.
Disconnected ducts can pose a major challenge to the safe and efficient operation of your AC system. Sometimes it's easy to find the problem, but not always.
Here's an easy place to start – If a supply duct has become disconnected, then you won't feel conditioned air coming out of the vent at the end of the duct. Make sure your air conditioner is running, then check the air flow coming out of the vent in your home. This will help you start finding any disconnected ducts.
What's the best brand of AC for Phoenix homeowners?
The short answer: We're flexible on the brands we recommend (more below). For the most reliable, energy efficient performance, we generally recommend Trane and Mitsubishi, but if you're on a budget, consider Day and Night.
​The longer answer: The brand you choose matters less than you might think.
What Determines the Longevity of an Air Conditioner in Phoenix?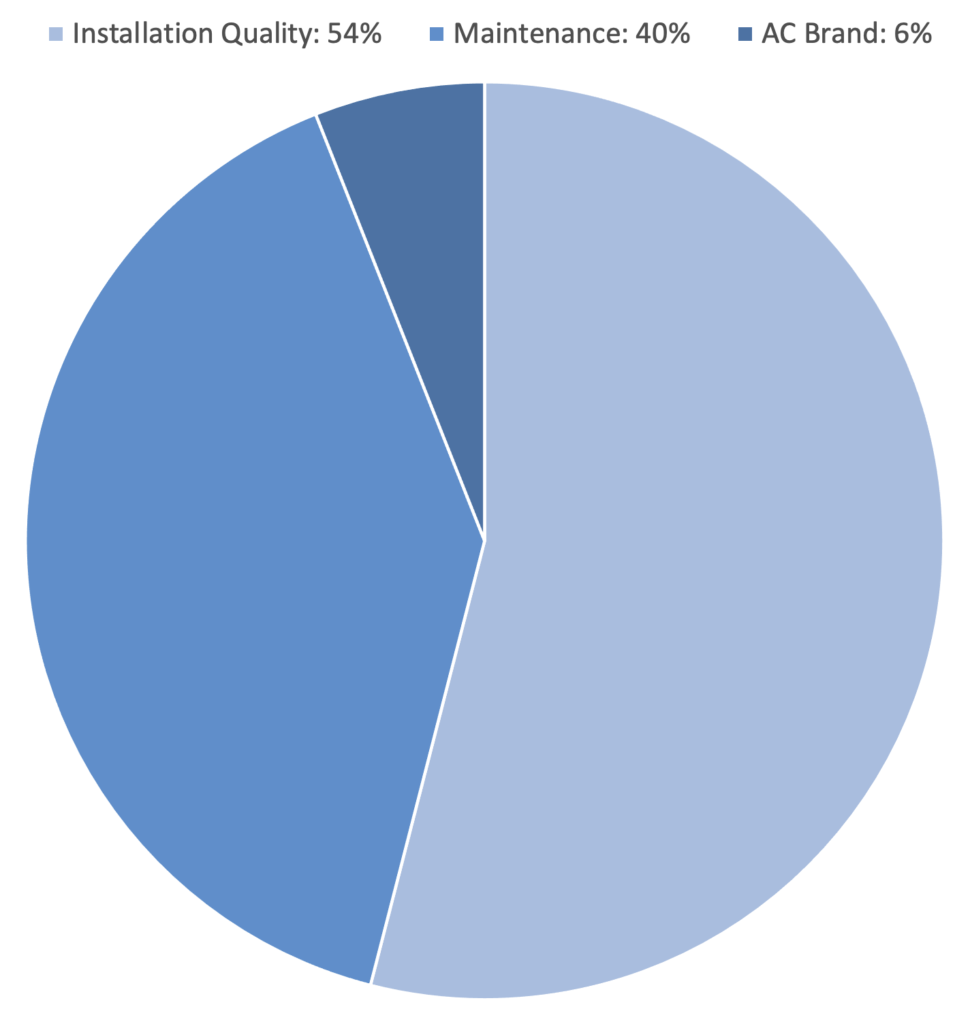 The most important thing is to hire a quality installer. Any new AC system needs to be properly sized and balanced with consideration for your insulation, ductwork, and other important features of your home.
If you hire an installer who cuts corners, even a high end air conditioner will run constantly, resulting in comfort issues, dust, and high energy bills. We see it all the time.
If you have questions about AC installation in Phoenix, don't hesitate to hit reply, or give us a call at (623) 581-5298.
How long does Phoenix AC installation take?
Timelines vary. For the latest estimates, please give us a call at (623) 581-5298.
At this time, we have openings within the next few weeks. It's possible that we could install AC in your Phoenix home within the next two to four weeks, depending of course on the availability of the type and brand of AC system that you want.
What's the best time for Phoenix AC Installation?
The first thing to know is that there isn't a bad time to replace your air conditioner. Especially if your AC is on its last legs, don't wait. Just call: (623) 581-5298.
That said, the winter months are generally a better time to install a new AC system in Phoenix. Here's why.
Replace your AC before it fails
If you have an older AC, it's more likely to fail during the summer months when it runs nearly continuously. It's better to replace your AC before the summer comes, so that you don't run the risk of it failing when you need it most.
Even if your AC doesn't fail, you'll still have to cope with 100+ degree temperatures during the installation, which generally takes a full day. If you have kids or pets at home, you'll have to find a way to keep them cool.
If you're installation ends up taking more than a day, you may have to pay for a hotel room for the night. It's manageable, but it's also inconvenient.
Home projects and construction are rarely convenient, but you'll find that that it's less inconvenient to replace your AC system during the winter months. The temperatures – and hence the stakes – are much lower.
You'll get your AC faster in the winter
So the saying goes, "When they zig, you zag."
When the weather is perfect in Phoenix, few people are running their air conditioners, and even fewer people are thinking about them. This is the best time to call and schedule your new AC installation.
Air conditioners are subject to the same laws of economics as almost any product. As demand goes up, prices go up. So as demand for air conditioning goes up during the summer months, you can expect one of two things (perhaps both) from reputable AC installers:
How You could end up waiting weeks or months for your new AC system.
Prices increase slightly to cope with the increased demand.
In general, you can avoid these outcomes by contacting AZ Energy Efficient Home before demand for air conditioning peaks: (623) 581-5298.
Get the AC system you want
By being proactive and planning your AC installation before demand spikes during the summer months, you'll find that you have more options and a better chance of getting the AC system that you want.
Tell us your budget, and we'll help you choose the best central AC for your home. Sometimes we run into the issue that the best AC system isn't available right away during the summer months. That would mean that you have to either wait or compromise on the system you get.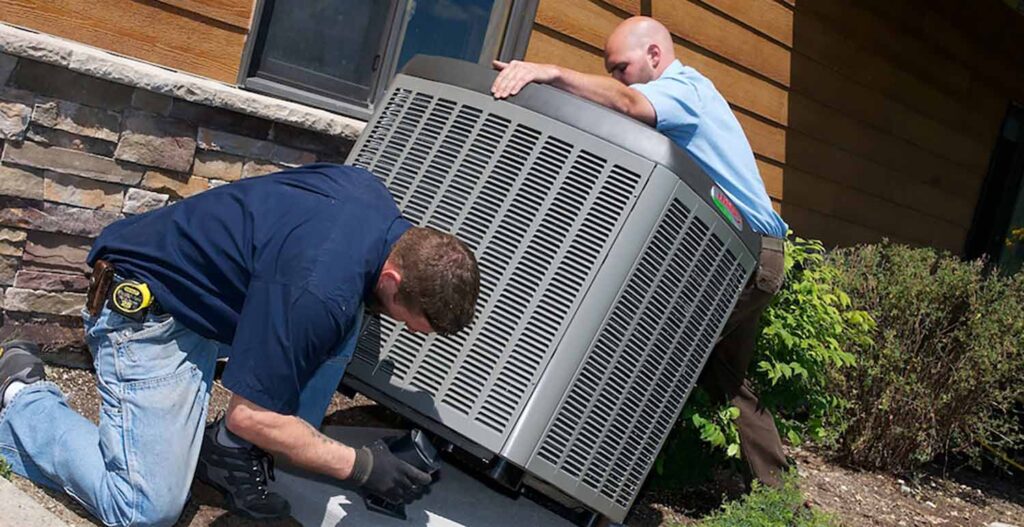 How much does central AC cost?
It's a big range, so we usually ask, "What's your budget?" We find the best AC for each customer at a price that works for them.
​Here are a few things to know about AC costs:
#1. Not all air conditioners are created equal
If you pay less upfront, you'll end up paying more for operation and maintenance.
For low energy bills and reliable performance, we recommend choosing an air conditioner with variable speed air flow and an efficiency rating of at least 16 SEER.
#2. Most customers pay between $90 and $130 a month
The details:  Many of our clients choose to finance their AC installation with EnerBank, which offers a competitive 0% interest, 60-month term.
In general, a variable speed 16 SEER air conditioner ranges between $7K and $9K. A 14 SEER air conditioner starts at $5.5K. Please note that pricing is subject to change.
#3. Choose a reputable installer
Because of issues related to the installation, most new AC systems operate at about half their rated capacity – somewhere between 45% and 65%.
Here at AZ Energy Efficient Home, we test every air conditioner installed by our team to make sure they operate between 92% to 98% of their capacity – exactly where they should be.
If you have questions about AC costs in Phoenix, don't hesitate to give us a call at 623) 581-5298 or send us a message.
What tax credits are available for Phoenix AC installation?
The short answer: You can claim a tax credit that covers 30% of the cost for your Phoenix AC installation (including labor) up to $600. The tax credit expires on December 31, 2032.
Which central AC systems are eligible for the tax credit?
Take care to choose the right air conditioning contractor for your home. If you don't check the right boxes, you could end up missing out on your tax credit.
Here's how the IRS describes central AC systems that qualify for the tax credit:
To qualify for the credit, the central AC system has to be as efficient or more efficient than the highest level of efficiency (not counting any extra level) that the Consortium for Energy Efficiency (CEE) sets at the start of the year when the system is installed. You can also check the CEE Directory of Efficient Equipment to find out which systems meet this criterion.
How do you interpret that? Basically, you'll need to install an energy efficient central air conditioner. To make sure you get the right central AC system, give us a call at: (623) 581-5298
We want our clients to take advantage of every available tax credit. That's why we closely watch the criteria and track the brands / models that perform reliably in Phoenix and qualify for the maximum credit.
Are there any other limits on the central AC tax credit?
Definitely.
You can only claim a certain amount of credit for each type of equipment or improvement you install in your home, and there is also a yearly limit for the total credit you can get. 
The yearly limit for an efficiency tax credit is $3,200. Here's how it breaks down:
$1,200:

You can claim up to $1,200 for any mix of home envelope improvements (windows/doors/skylights, insulation, electrical) and furnaces, boilers and central air conditioners. 

$2,000: You can also claim up to $2,000 for any mix of heat pumps, heat pump water heaters and biomass stoves/boilers. (Note:

Geothermal heat pumps

that have the ENERGY STAR certification are not part of this limit and have a different tax credit.)
In addition to the aggregate limits, there are limits on specific systems (e.g. your central AC tax credit is capped at $600). If you'd like to come up with a plan to max our your available tax credits, please reach out to schedule an appointment.
Who can claim the central AC tax credit?
Only owners of existing homes that are their main residences can use this credit. You cannot use it for new construction or rental properties.
To be clear, your main residence is the home where you spend most of your time. It must be located in the United States and includes single-family houses, houseboats, mobile homes, cooperative apartments, condominiums, or manufactured homes.
Is there an AC rebate for homeowners in Phoenix?
Yes! Both APS and SRP offer rebates for air conditioning systems. For the latest, please visit the rebate page for your electricity provider – APS or SRP.
Rebates are subject to change and availability. If you're serious about an AC replacement, don't wait. You'll lock in the largest rebate by doing the project sooner rather than later. Give us a call to get started: (623) 581-5298
APS - AC / Heat Pump Rebate
Get $200 from APS when you work with a participating contractor to install an AC or heat pump with an efficiency rating of 15 SEER or more. Rebates typically take 6 – 8 weeks to process.
APS offers an additional $1,000 to $1,200 to help income-qualified homeowners with emergency AC / heat pump replacements.
SRP - AC / Heat Pump Rebate
If you're an SRP customer, you can get a rebate between $75 and $,1,125 depending on the size and efficiency of the system you install. 
That's a big range, so let's break it down. 
You would get $75 per ton for the least efficient AC / heat pump or $225 per ton for the most efficient. Our average customer goes with a a 16 SEER variable capacity, 4-ton unit.
You could claim a $900 rebate if you get electricity from SRP and install a 16 SEER variable capacacity, 4-ton heat pump or AC. Send us a message to find out what your rebate would be.
What's different about AZ Energy Efficient Home?
In short, we work with care.
Too many HVAC contractors recommend larger systems than you need without taking the time to assess your duct leakage, duct design, air leakage, static pressure, or room pressure.
We properly size and scope every AC system. The result – You get consistent temperatures throughout your home, and you pay less on your energy bills over months and years. Every client gets a satisfaction guarantee.
No other contractor in the country has won the ENERGY STAR Contractor of the Year Award more times than AZ Energy Efficient Home. 
How often should I change my AC filter in Phoenix?
Changing an old air filter is quick and inexpensive, plus it can reduce energy costs by up to 15%. If it's been a few months since you last changed your air filter, stop reading, and do it now!
How do I know what AC filter to use?
First, be sure to choose the right size filter. Not sure what what size you need? That's OK. Here's what to do:
Go to your thermostat to press pause on your AC or heat pump. Turn off cooling mode and make sure the fan isn't running. The goal is to stop air from moving through your central air system while you're switching out the air filter.
Next, locate your old air filter. It's most likely in the return air duct or blower compartment next to your air handler. Look for a rectangular plate that's usually a foot and a half wide.
Check the dimensions of your air filter. They should be printed on the side of the filter. For example, 20" x 20" x 4". If you can't see the dimensions clearly, you can measure them yourself. Just lay the air filter flat and measure the length, width, and depth with a tape measure or ruler.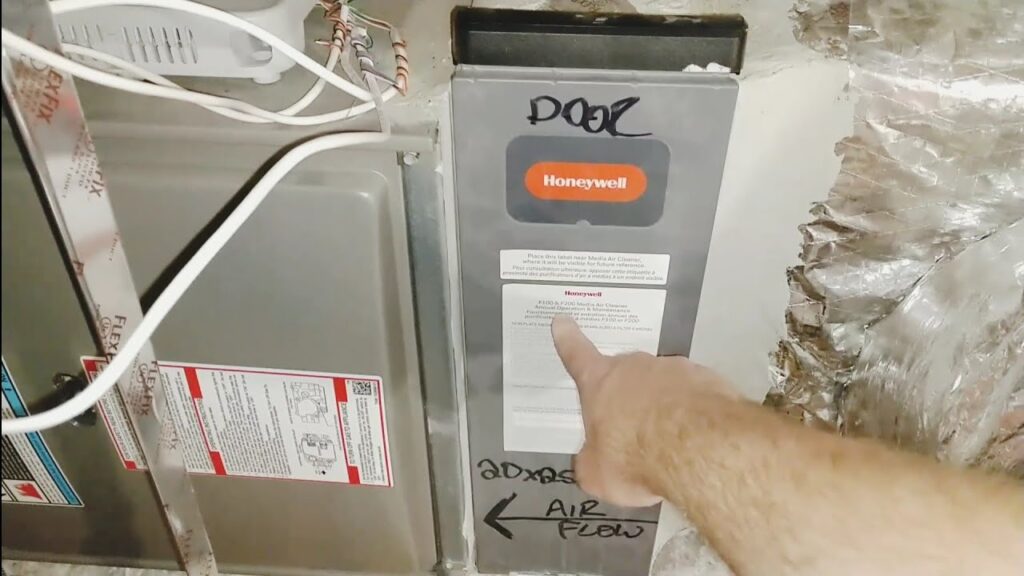 To get the right air filter, you'll also want consider its effectiveness. Effectiveness is measured by the MERV (Minimum Efficiency Reporting Value) rating. The higher the MERV, the better the filter.
In general, our team at AZ Energy Efficient Home recommends 4-inch pleated filters with a rating between MERV 11 and MERV 13.
How often should I change my AC filter in Phoenix?
It depends on the thickness of your filter is (e.g. 4" vs. 1") and how much you use your system. A 4" filter can last up to 6 months, but a 1" filter may need to be replaced every month.
Here's a good place to start: Check the filter once a month. If it looks dirty, change it. It's helpful to set a recurring reminder in your calendar.
Your lifestyle also affects how often you need to change your filter. If you have a big family with pets, your filter will get dirty faster than if you live alone or consistently travel. And if you run your air system a lot in summer or winter, you'll need to change your filter more often than in spring or fall.
Where should I buy an AC filter?
Once you have your filter size and MERV rating, you can order online. You'll usually find the best deals by doing a quick Google search. It's smart to buy a few filters at once to save money and have backups ready.
How to save money on air conditioning?
Here's an easy way to save 10% to 15% on your cooling costs.
Install a Western Cooling Control (WCC) device for your central AC system. This device is specially designed for the Arizona climate and costs only $150 after a $70 rebate from APS.
A regular air conditioner works best in a hot and humid environment. The WCC device modifies a regular air conditioner to make it work better in the dry and hot weather that we have in Arizona.
What makes the WCC device so effective?
The WCC device maximizes the cooling power of your air conditioner by continuing to move air across your indoor coil even after the AC system has cycled off.
The device takes advantage of the stored cooling in your air conditioner that is usually wasted. It keeps the fan running for a few minutes after the air conditioner has turned off and delivers the remaining cool air to your home. That's how it "wrings out" the full cooling potential of your air conditioner.
In a dry climate like Phoenix, the WCC device produces savings of 10% to 15% without sacrificing comfort.
It's simple to install, low-cost, and highly efficient. If you'd like to install a WCC device, give us a call at (623) 581-5298. We're happy to help you make the most of your Phoenix air conditioner.
How do I qualify for the APS rebate?
To get the APS rebate for a WCC device, you need to meet the following criteria:
You are a current APS residential customer
You install a new, approved Cool Control device in a whole home air conditioning system (window units are not eligible)
You apply for the rebate within 6 months of installation date through a participating contractor like AZ Energy Efficient Home
You can get the rebate for up to five units per home, depending on your residential system
We will process your APS rebate, which could take 6-8 weeks for processing.
The following aren't specifically related to HVAC maintenance, but we want to call out a few other priorities to make sure your home is ready for the winter.
Look out for animal activity
You should inspect the screens that cover the vents for birds and rodents, and look for damaged or missing insulation, which could mean that animals have been nesting there.
Check your siding
In particular, look for any indications that the paint is peeling, the brick mortar is missing, or the stucco is cracking on the siding of your house. You should also watch for stains on the siding, which could mean a water problem or an issue with your roof.